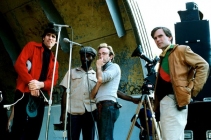 Charlie Ahearn
Wild Style
directed by Charlie Ahearn was first screened in 1982 and went on to become the classic Hip Hop movie. After directing other films such as
Fear of Fiction
and artist documentaries Ahearn co-authored book
Yes Yes Y'all
, released in 2002 was an oral history of the first decade of Hip Hop with many photos by Ahearn.
Wild Style The Sampler
by Ahearn was published in 2007 on the 25th anniversary of that movie. Ahearn has been producing documentaries such as Richard Hunt Sculptor 2010,
Jamel Shabazz Street Photographer
2011 and Hip Hop musical shorts, his latest being
All City Take It To The Bridge
. Recently Ahearn exihibited the Scratch Ecstasy Exibition at PPOW with a slide show, videos, photographs, and silkscreen paintings. Ahearn resides in New York City.
Photo Amphitheater 1981 DPs John Foster, Clive Davidson, John McNaughtly and Charlie Ahearn by Michael Markos